Todays review is on
Damned and Desired
by Kathy Kulig.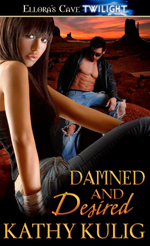 *This book contains some light BDSM and a little m/m/f fun.
She's a demon, he's a shapeshifting leopard. From their first meeting in the Arizona desert, passion ignites and trouble begins. As a demon, Sakari Lock must harvest lifeforce energy through sexual seductions to sustain her exiled world.
But when Sakari meets Brad, she breaks the number one rule of Anartia—don't get personal with your quarry.
Physician's assistant Brad Montag is drawn to Sakari with a blazing desire he can't explain, unaware of how dangerous she is.
No matter how enticing, she's a complication he doesn't need until he can conquer his past and regain control of his shapeshifting abilities.
When immortals from an alternate dimension try to free their exiled world, Brad is caught in the middle of a battle that could destroy not only him, but all he loves.
Read the rest of my review at
Smexybooks
.