Are you a winner? Well you can be with this Charlie Sheen "Winning" t shirt by Sophomore.com. At $66 a pop…I think I'll stay a loser.

It's official! Riccardo Tisci is to replace Galliano at Dior.

For the bride who takes the phrase "til death do us part" very seriously. Available at My Flash Trash.
Stalk the royal couple in style. Your complete guide to the Royal Wedding 2011. Courtesy of Huffington Post.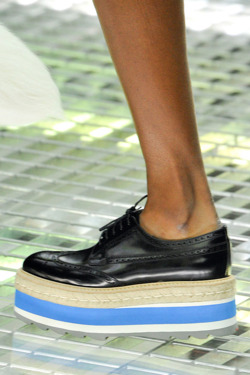 Have you been dying for Prada's newest flatform? Why? lol Just kidding. (No, really, why?) Anyways, good luck getting. They have been sold out since February but you can be put on their waiting list. (Again, why?)
Anti-suicide Trevor Project to honor Radcliffe
For the past couple of years, the "Harry Potter" star has been doing his part to make that a reality with his work with the Trevor Project, the leading organization for suicide prevention efforts among gay, lesbian, bisexual and transgendered youths.
For his contribution, Radcliffe is being honored with the organization's Hero Award at a ceremony in New York in June.
Teeny Tiny Peeps
See more at I'm So Tiny