"Bueller…Bueller…Bueller…." Who doesn't remember the hilarious 80s movie about a high school senior who decides that he, along with his girl friend and his best friend, need a day off from school? To celebrate the 25th anniversary of this cult classic, I leave you with one of my fav scenes from the movie.
Best Prayer EVAH!
If your a Nascar fan then you know there is a prayer before each race to ensure the safety of the drivers and the fans. Paster Joe Helms decided that he wanted to be a little different this go around and show fans that not all Christians are sticks in the mud. Some found his pray offense, but me…I found it hilarious and all in good fun.
Some people just need to lighten up.
Awwww…I haz a sad :(
This awesome-licious couple (yes, I'm being sarcastic) have decided to call it quits. The couple is claiming that the long distance between them is at fault. Ummm…your only a state or 2 away from each other. I'm thinking someone wised up and thought to themselves…, "Hmmm, he's been married 3 times, has cheated on all 3 woman, likes strippers, and has problems with woman who are more famous or make more money then him."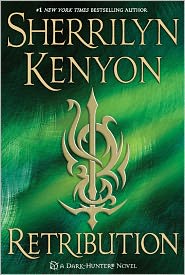 SQUEEE!!! SLK's newest Dark Hunter book-Retribution-releases August 2.
A hired gunslinger, William Jessup Brady lived his life with one foot in the grave. He believed that every life had a price. Until the day when he finally found a reason to live. In one single act of brutal betrayal, he lost everything, including his life. Brought back by a Greek goddess to be one of her Dark-Hunters, he gave his immortal soul for vengeance and swore he'd spend eternity protecting the humans he'd once considered prey. Orphaned as a toddler, Abigail Yager was taken in by a family of vampires and raised on one belief—Dark-Hunters are the evil who prey on both their people and mankind, and they must all be destroyed. While protecting her adoptive race, she has spent her life eliminating the Dark-Hunters and training for the day when she meeting the man who killed her family: Jess Brady.A gun in the hand is worth two in the holster…Jess has been charged with finding and terminating the creature who's assassinating Dark-Hunters. The last thing he expects to find is a human face behind the killings, but when that face bears a striking resemblance to the one who murdered him centuries ago, he knows something evil is going on. He also knows he's not the one who killed her parents. But Abigail refuses to believe the truth…
The kid and I are heading to North Carolina this week to visit with my mom and spend some quality time shopping before school starts. :) We are taking the train.
This is one place we will be going. Sliding Rock. Sliding Rock is a 60' natural rock slide with a 6-7 foot deep pool at the base.
I've never slid down a rock before. 0_o.